Find the perfect
shoe

fit

You'd be surprised how many people have wide-fitting feet and don't know it! Use our measuring guide and discover your true size in 3 easy steps.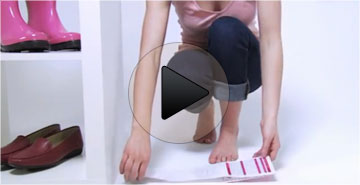 Stage 1
Print out your measuring guide and with your measuring tape at the ready, watch the video to help you measure.
Stage 2
With your printed measuring guide, measure the length of your foot to get your shoe size. Then with your measuring tape, measure the widest part of your foot to get your width.
Stage 3
Find your shoe size in the left hand column of the size chart and follow the row to the right until you find the closest foot width measurement. The column at the bottom will tell you which width fitting you are.
Foot Width Size Chart:
Measurement around the widest part of foot
Shoe
size
10
254
260
266
272
278
284
290
9
247
254
260
266
272
278
284
8
241
247
254
260
266
272
278
7
234
241
247
254
260
266
272
6
228
234
241
247
254
260
266
5
222
228
234
241
247
254
260
4
216
222
228
234
241
247
254
3
210
216
222
228
234
241
247
D


Standard

E


Wide

EE


Wide

EEE


Extra Wide

EEEE


Extra Wide

EEEEE


Ultra Wide

EEEEEE
Ultra
Wide
Width fitting