The latest must have shoe boots at Viva La Diva
Viva La Diva is always ahead of all the latest shoe trends and that's why we have a fantastic choice of this season's shoe boots – also known as booties and shooties – which are a shorter version of an ankle boot and a taller version of a shoe, and look utterly fabulous. Wear shoe boots with skinny jeans and leggings, and if you're lucky enough to have long legs you can wear shoe boots with skirts and dresses too! You'll simply adore our collection of flat shoe boots and high heel shoe boots within our designer shoes range.
Buy women's shoe boots now and set the designer shoe trends
Full shoe boots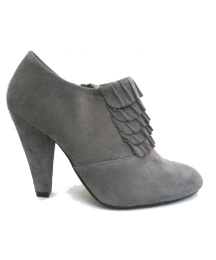 Full shoe boots
Funky twist on ankle boots
More towards the style of an ankle boot than a shoe, full shoe boots are ideal for any weather and outfit. Wear full shoe boots with skirts and dresses or jeans and leggings, in the sun or the rain. Our full shoe boots come in a variety of simple and more elaborate styles, as well as low and high heel designs with rounded and pointed toes. Ever so versatile, full shoe boots are a great addition to any diva's wardrobe!
School look booties
School look booties
Retro-inspired designs
Combining two of the latest must have designer shoes – these gorgeous shoe boots mix together retro school shoes and brogue shoes with shooties to make these funky designs. In a variety of colours including black, white, brown, multi-coloured and patent, these school look shoe boots are real head turners. These designer shoes are far too cool for school.
Peep toe shoe boots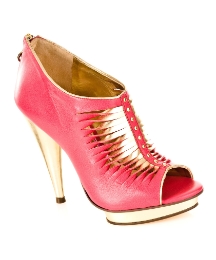 Peep toe shoe boots
Adorable and pretty styles
Ever so cute and ever so now, these gorgeous peep toe shoe boots have a real girly twist on this latest fashion. A peep toe is most certainly a must have for spring into summer and adds a feminine twist to the shoe boot craze. Peep toe shoe boots look lovely for nights out and you'll adore the fabulous array of styles we sell in our designer shoes collection.
Strappy booties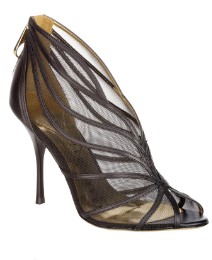 Strappy booties
Feminine and stylish
The ultimate in looking glamorous and fabulous, with a strappy sandal design and shoe boot look, these gorgeous strappy booties are most certainly the ideal going out shoe. In funky metallics, patent and so many more designs, these strappy shoe boots come in a variety of styles and colours to suit all outfit choices. You'll certainly make an entrance with these shoe boots!
Casual and versatile low heel shoes boots
At Viva La Diva you'll find such a great choice of shoe boots in all kinds of styles and colours in our designer shoes range including those with flat, low and mid-height heels, so you can look and feel fabulous all day long without feeling the high heel pinch. Low heel shooties and flat shoe boots are great for everyday wear, whether it's looking stylish at work or shopping.
Girly and glamorous high heel shoe boots
Browse the designer shoes on our website and you'll find so many pairs of high heel shoes boots that you'll be spoilt for choice. From versatile black, white and grey to vibrant blue, purple and multi, Viva La Diva has an amazing choice of shoe boots that also includes lots of patent, suede and metallic designs. Make a fashion statement with this gorgeous high heel shoe boots.