Quirky and funky ladies' brogue shoes
At Viva La Diva we're always one step ahead of the latest designer shoes fashion trends and that's why we love brogue shoes. These unusual ladies' designer shoes have a real androgynous look about them and add a real quirky twist to any outfit. Take a look at our fantastic range of women's brogues now and set the designer shoes fashion trends with your trendy women's brogue shoes.
A wide collection of women's brogues in all the latest styles
Brogue shoes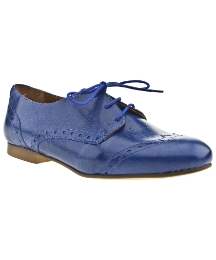 Women's brogue shoes
The classic design
Very much the original design, brogue shoes typically have a flat design and are very reminiscent of the traditional brogues, which is what makes them so utterly versatile. Wear flat ladies' brogues with rolled up jeans for a fashionable look or with a floral dress for an individual style, remember, brogue shoes look best with bare ankles too. Our brogue shoes come in all kinds of styles and colours including leather, patent and suede in black, brown, white, blue and so much more.
High heel brogues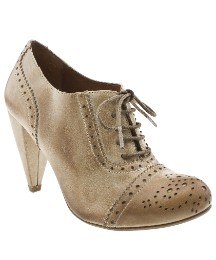 High heel brogues
A glamorous twist
Combining the quirkiness of the traditional women's brogue shoes with the glamour of a high heel, you'll love our high heel brogues that have a definite androgynous feel about them. Most certainly must haves for any diva, high heel brogues come a variety of styles including shoe boots, ankle boots and court shoes all with a brogue design. Whether patent or leather, black or brown, high heel brogues look fabulous with skinny jeans, leggings and dresses.
Brogue ankle boots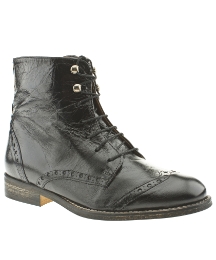 Brogue ankle boots
Flat and high heeled
They're ever so popular right now and when you add the ladies' brogues design to an ankle boot you can't go wrong, and that's why we have so many styles of brogue ankle boots on our website. Choose patent, leather or suede designs in all kinds of colours like black, brown and beige, and wear with skinny jeans or leggings for an up-to-date look. We have brogue ankle boots in high heel and flat designs, ideal for any occasion and outfit.
Brogue pumps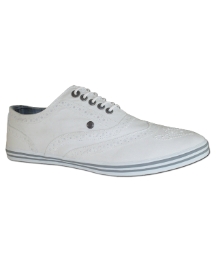 Brogue pumps
A casual choice
If you like the women's brogues look but don't feel it suits your laidback styles, you'll love our brogue pumps that have casual and relaxed feel about them. Mixing together the comfort of a pump with the design of ladies' brogues, they have a unique and individual style that really appeals to divas who love an informal look to wear with jeans or skirts for spring into summer. In grey, white and black, you'll love these quirky casual women's brogues.
Traditional brown and black ladies' brogue shoes
Based on the original women's brogue shoe design, Viva La Diva has a fantastic choice of ladies' brogue shoes in classic brown and black that are ever so versatile and will go with all outfits.
We have women's brogue shoes, high heel brogues, brogue ankle boots and brogue pumps all in these traditional colours, giving you a great range when it comes to buying your new women's brogues. Get a pair now and be fashion forward.
Vibrant blue, purple and red ladies' brogue shoes
Want to make a real fashion statement? Then you'll love our collection of women's brogue shoes in bright and bold colours that really stand out from the crowd and add a funky dash of colour to any outfit.
You won't find anything quirkier than a pair of blue, purple or red brogue shoes and you'll find an abundance of vibrant ladies' brogues at Viva La Diva all from well known brands and at great prices.